The simple yet powerful DNS server for Windows
What makes Simple DNS Plus "simple" is its user interface and automation features. All options and settings are available directly from the intuitive Windows user interface. It provides wizards for common tasks such as setting up new zones, importing data, making bulk updates, etc. You never need to mess with cryptic configuration files or registry settings.
Novice users can have their DNS server up and running correctly and securely in no time. But make no mistake - Simple DNS Plus is a very capable and full featured DNS server, and it has plenty of options for expert users to tweak it just the way they want.
Simple DNS Plus runs on all desktop and server versions of Windows 7 / Windows Server 2008 R2 and later.
Simple DNS Plus supports DNS over TLS (DoT) / DNS over HTTPS (DoH) for user privacy.
Simple DNS Plus has a REST / JSON based HTTP API for easy integration with your web-site, applications, etc.
There is a long list of plug-ins available to provide extended functionality - including a DHCP server plug-in, and a JavaScript plug-in which lets you write your own custom logic for DNS query processing.
Simple DNS Plus even makes DNSSEC simple, with automatic DNSSEC signing whenever you change DNS records, automatic key rollovers at scheduled intervals, etc.
Simple DNS Plus also has built-in zone version control, and a bunch of other unique features...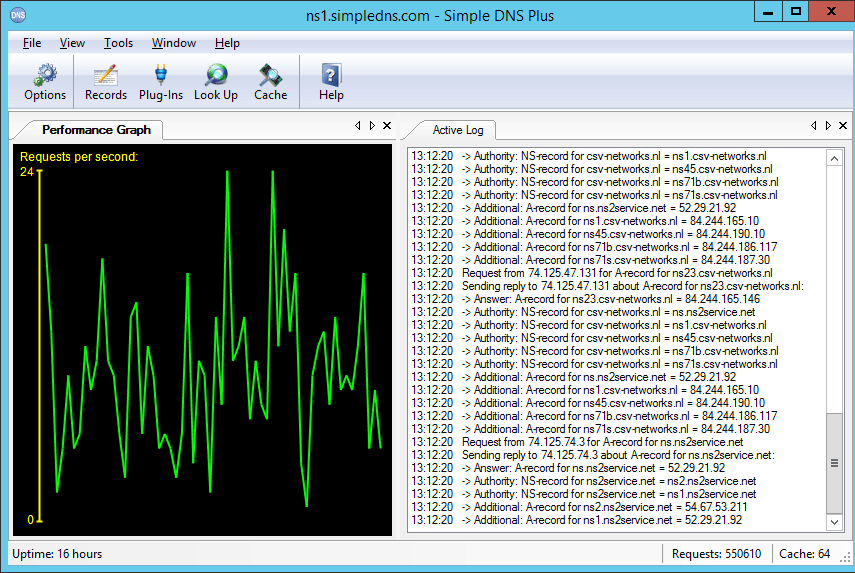 Click on image for full size screen shots
"
"
Excellent! What more can I say? Very easy to use and setup. Much better than any other DNS server. Keep up the good work.
Wesley Cornell - www.digital-compass.net